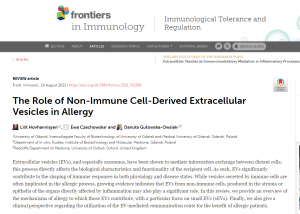 Thanks to Lilit and Ewa for your hard work!
Published @ Frontiers in Immunology  (IF=7.561) https://www.frontiersin.org/articles/10.3389/fimmu.2021.702381/full
This work was supported by POIR.04.04.00-00-21FA/16-00 project, carried out within the First TEAM programme of the Foundation for Polish Science co-financed by the European Union under the European Regional Development Fund and National Science Centre, Poland – UMO-2016/23/P/NZ6/04056, this project has received funding from the European Union's Horizon 2020 research and innovation programme under the Marie Skłodowska-Curie grant agreement No. 665778, as a part of POLONEZ Fellowship.